UPLB OAR & UPLBAA goes to Pangasinan!
UPLBAA and UPLB OAR met some UPLB alumni in Sual, Pangasinan on Nov. 21, 2021. With the assistance of Principal Carina C. Untalasco, the meeting was made possible in Sual National High School where they formed a UPLBAA chapter in Pangasinan. The group was organized as the first alumni chapter under the leadership of UPLBAA President Mauro W. Barradas, with the help of UPLB OAR Director Eileen Lorena M. Mamino and UPLB Chancellor Jose V. Camacho, Jr.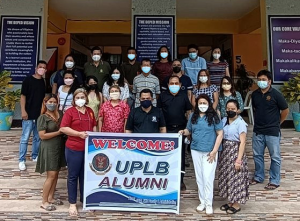 Dr. Irene R. Andaya-De Vera (CF '83; BSF '87; MMDM '99; PhD Envi Sci '10) took oath as the president of the chapter. Other officers are Mariel T. Caguioa (BS Biology), Eleonora Canoy (BS Mathematics), Joseph Anthony F. Quinto (BS Agribusiness Management; Master in Public Affairs in Strategic Planning and Public Policy), Melvin Palma, Danielle P. Paningbatan (BS Agriculture), and Harold Faustino Bulatao (BS Agriculture). Also present during the meeting are Dr. Cristino M. Collado (UPLBAA Vice President & CAFSAA President), Dr. Maria Dalisay G. Maligalig (OAR PDA & CAS ARO), Ms. Virma Rea G. Lee (CAFS ARO), and staff of UPLBAA and OAR.